CelebrityLife Activities
The inspiration behind becoming a better 'You'
Inspired onboard activities designed to be the life of your vacation.

You can be hundreds of miles out at sea yet still be connected to the rest of the world. If you want to. With all the hip high-tech spots and classes onboard, your cruise is the perfect time to learn how to edit a video of your vacation, right as you're in the middle of it. Or, enhance your digital skills and post all your photos to a web site. Celebrity Cruises' Online@CelebritySM provides e-mail services, Internet access to check your email post photos and stay connected. Computers are accessible 24/7.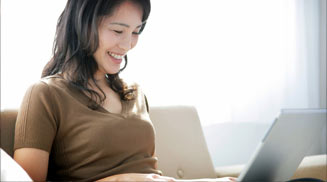 Internet Access
Most ships in our fleet offer WiFi connectivity throughout, with the exception of Celebrity Century®, Celebrity Xpedition®, and Celebrity Constellation® which offer WiFi in public areas. On all ships, Internet access is available in the Celebrity iLoungeSM 24 hours a day. You will be able to receive email, satellite conditions permitting. We also have an Internet Manager on board to assist you with questions or to set up an Internet Package at a nominal fee.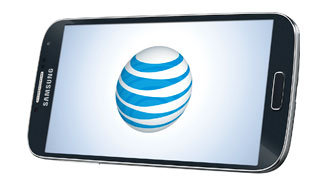 AT&T Cruise Ship Packages
Discount Cruise Ship packages are now available for AT&T® mobile customers while aboard select ships (not available on Celebrity ReflectionSM, Celebrity Silhouette®, and Celebrity Xpedition®). Choose from options for calling only, calling and messaging, or calling, messaging and data. Click here for details.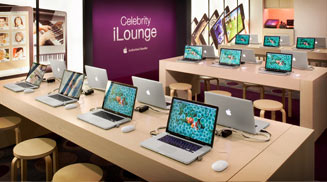 Celebrity iLoungeSM
This is Celebrity's chic, new approach to the Internet lounge that's also the first Authorized Apple® Reseller at Sea. It's the modern way to connect while onboard. Here, you'll find state-of-the-art workstations featuring MacBook Pros® and iMacs® where you can take a class, check your email, surf the web or print a boarding pass. Certified staff will help you master the latest audio and video products. Learn how to get the most from the hippest tech devices, like the iPhone®, iPad®, iPod Touch®, and MacBook Pro®. And, if you like, you can purchase some of these items on your cruise. Celebrity iLounge is available on most ships.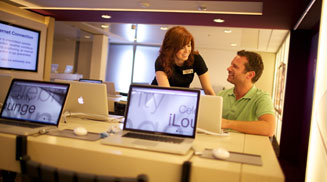 Celebrity iLearn
Learn how to turn your digital photos and movies into artistic masterpieces. Find out how easy it is to download, listen to, and organize audio and digital books, music and pod casts. Discover how quickly you can create a website to document your travels, or write a blog to share your thoughts. And once you've mastered the fundamentals, we offer advanced versions of each program so you can take your newfound skills to the next level. Expand your skills from any of 18 custom-created courses with one of our Celebrity iLounge Managers.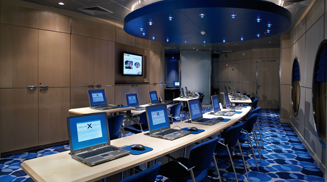 Online@Celebrity
Celebrity Century®, Celebrity Xpedition®, and Celebrity Constellation® feature Online@CelebritySM, an Internet lounge that provides e-mail services and Internet access 24 hours a day. It also offers DigITal, a program that will help you make the most of computer and smart phone technology through group and individual instruction.