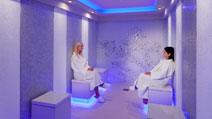 The Cold Room Slip into 52 degrees of exhilaration to invigorate the senses and close pores that were opened and cleansed in the Infrared Sauna or Aromatic Steam Room—heated floor and seats help keep the chill level more comfortable.
Hammam Ours is a modern twist on a traditional idea that allows you to experience regeneration, contemplation, and physical and spiritual relaxation—this quiet retreat invites you to loosen muscles by stretching, getting a massage or salt scrub that will leave you glowing and relaxed. Or, try the Ultimate Hammam Experience that includes a custom salt scrub and massage.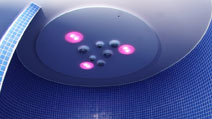 Sensory Showers Complete your circuit with a refreshing warm tropical rain shower infused with fruit fragrances or an invigorating arctic cold mist enlivened with eucalyptus essence—ambient light and sound make the experience even more heavenly.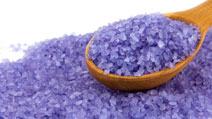 DIY Scrub & Polish Bar Create your own custom blends for rejuvenating, exfoliation skin treatments. Choose from salt, sugar and herb salt scrubs that will surround you with luxurious scents as you enjoy skin pampering.
Keratin Complex Hair Straightening Treatment The salon within the AquaSpa® on Celebrity Reflection also offers the popular Keratin Complex hair smoothing therapy. Achieve that sleek, smooth, straight hair you've always wanted...just in time for formal night and the photographers.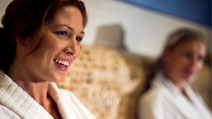 Girlz Night/Couples Night Girlz Night, a social spa night for women complete with access to the Persian Garden, includes hand, scalp and foot massages, mini facials with mask, and a visit to the scrub bar. Couples Night offers couples an intimate evening in the Persian Garden, complete with hand, scalp and foot massages, mini facials with mask, and scrub bar visit.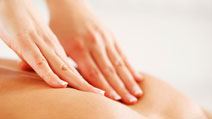 Rhythm and Bliss A rhythmic rubdown conceived and choreographed by the New York brand, bliss®, designed to give your tense spots a 'tune-up,' while you 'tune out' with noise-canceling headphones playing your choice from four music mixes: classical, world, electronic and rock.