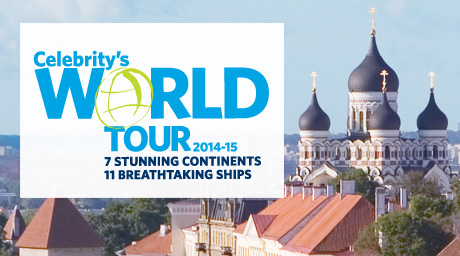 Celebrity Cruises Adds New Ports, More Overnight Stays to Northern Europe Itineraries In "Celebrity's World Tour"
March 14, 2013
Celebrity Cruises has revealed the next collection of itineraries in "Celebrity's World Tour," the brand's guest-inspired, destination-rich, modern luxury vacations to all seven continents of the world in 2014-15.
Opening today with "Priority Access" and exclusive offers for members of Celebrity's Captain's Club loyalty program are Celebrity's 2014 Northern Europe vacations. Two sleek ships will provide guests with Celebrity's modern luxury ambience while visiting 54 unique ports in 18 different countries next year in Northern Europe alone.
Celebrity Eclipse - the first to present the "Celebrity iLounge" and first to introduce Celebrity's quirky, tapas-style specialty restaurant, "Qsine," when the ship launched in 2010 - will kick off her Northern Europe season from Southampton, England, with an 8-night Norwegian Fjords sailing, followed by a 14-night Mediterranean vacation, a series of 14-night Scandinavia & Russia and Iceland & Fjords sailings through August, and four cruises in the Azores, Canary Islands and Spain, prior to making her transatlantic crossing to Miami on November 9, 2014.
Celebrity Eclipse's Northern Europe itineraries next year will be highlighted by overnight stays in Copenhagen, Denmark; Reykjavik, Iceland, and St. Petersburg, Russia.
Celebrity Infinity will present a combination of 10- and 11-night British Isles and Iceland & Fjords vacations, followed by 11- and 12-night "Immersive Wine Cruises" in the top wine-producing regions of Europe in the summer of 2014, all roundtrip from Harwich, England. Highlighting Celebrity Infinity's Northern Europe season will be overnight stays in Liverpool, England; Glasgow (Greenock), Scotland; Dublin, Ireland, and Bilbao, Spain.
Designed to offer vacationers rich experiences in the classic wine countries of France, Spain and Portugal, during peak grape harvest season, Celebrity's Immersive Wine Cruises offer guests the opportunity to enjoy tours and tastings at some of the region's most renowned wineries, grape harvesting experiences, and gain in-person insight into how Port wine is blended and aged in Porto, Portugal.
Celebrity's onboard experience reflects the flair and flavor of the region, too, with activities developed in partnership with local wineries, including Rioja tastings, Champagne brunches, Bordeaux samplings from well-known Chateaus, Port and food pairing dinners and more, including special events in the ship's Cellar Masters wine bar, complete with its "Enomatic" by-the-glass wine serving system. A seasonal wine package featuring special selections from the region also will be added to Celebrity's already popular package offerings.
Celebrity also is introducing an entirely new collection of elite land-based adventures available nowhere else. Named "Celebrity Exclusives," the collection will feature personalized experiences for individuals or small parties no larger than 15 guests.
To further enhance guests' destination experience, every Celebrity ship in 2014 will offer the services of a Destination Concierge, whose in-depth knowledge of the ports of call on every itinerary will allow the expert to guide Celebrity's guests through every aspect of their adventures on land, including Celebrity Exclusives, or to create special excursions tailored precisely for individual guests' preferences.
Celebrity will continue to reveal full details of the breadth of itineraries and land-based adventures within Celebrity's World Tour as each collection of itineraries opens for bookings in the coming weeks.
About Celebrity Cruises:
Celebrity Cruises' iconic "X" is the mark of modern luxury, with its cool, contemporary design and warm spaces; dining experiences where the design of the venues is as important as the cuisine; and the amazing service that only Celebrity can provide, all created to provide an unmatchable experience for vacationers' precious time. Celebrity Cruises' 11 ships offer modern luxury vacations visiting all seven continents. Celebrity also presents immersive cruisetour experiences in Alaska, Australia/New Zealand, Canada, Europe and South America. Celebrity is one of five cruise brands operated by global cruise vacation company Royal Caribbean Cruises Ltd. (NYSE, OSE: RCL). For more information, dial 1-800-437-3111 or call your travel agent.