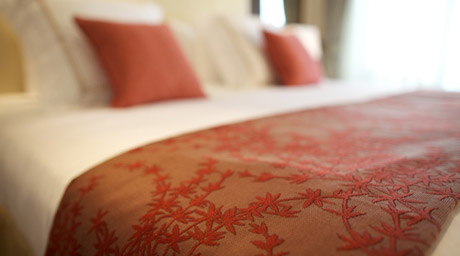 New Reverie Sleep System And Exhale Luxury Linens From Celebrity Cruises Now Available For Purchase
December 18, 2012
Modern luxury line Celebrity Cruises has joined forces with Reverie®, the producer of its innovative onboard sleep system, to offer guests the same sweet dreams they enjoy onboard Celebrity's luxury cruise ships, in their homes. A new online retail program now gives luxury-seekers the opportunity to buy Reverie® Dream Sleep System™, exclusive Celebrity eXhale linens, Reverie pillows, and other bedroom accessories.
Celebrity's onboard sleep program was designed to provide guests with modern, technology-enabled luxury. The mattresses are made with natural rubber and bamboo - sustainable materials that are naturally anti-bacterial, anti-microbial and dust mite-resistant. Exclusively designed linens also enhance a good night's sleep.
The items can be purchased at www.celebrityexhalebedding.com.
Through the end of the year, consumers can enjoy $200 off any mattress or sleep system purchase, by using code BESTBED1, and 10% off eXhale linens with code TENOFF.
About Celebrity Cruises:
Celebrity Cruises' iconic "X" is the mark of modern luxury, with its cool, contemporary design and warm spaces; dining experiences where the design of the venues is as important as the cuisine; and the amazing service that only Celebrity can offer, all created to provide an unmatchable experience for vacationers' precious time. In addition to cruise vacations visiting all continents, Celebrity also presents immersive cruisetour experiences in Alaska, Australia/New Zealand, Canada, Europe and South America. With a fleet of 11 ships, Celebrity is one of the fastest-growing major cruise lines, and one of five brands operated by global cruise vacation company Royal Caribbean Cruises Ltd. (NYSE, OSE: RCL). For more information, dial 1-800-437-3111 or call your travel agent. Follow the brand socially at www.facebook.com/celebritycruises and https://plus.google.com/110048759818995622376.
About Reverie
Reverie® is a leading manufacturer of innovative mattresses, adjustable beds and pillows to the trade and directly to consumers. With R&D and manufacturing in New York State and warehouses throughout North America, Reverie manufactures all its mattresses in the USA and continues to be a cutting edge leader and innovator in the sleep products industry.