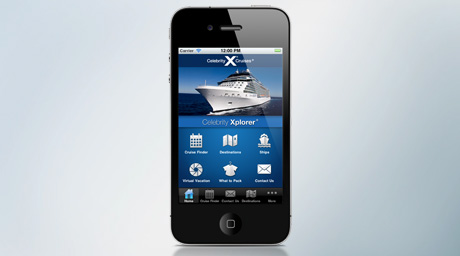 Celebrity Cruises Expands Mobile App Features
August 27, 2012
Dedicated to offering exceptional, personalized and award-winning vacation experiences, Celebrity Cruises now has introduced convenient vacation planning to consumers by inviting them to book their modern luxury vacations on select popular mobile devices.
Presented to serve as an on-the-go hub for vital cruise vacation details, the newly updated "Celebrity Xplorer" app offers several new features. In addition to its unique booking capability, vacationers can explore Celebrity's signature staterooms, browse current rates and even opt to hold reservations if they prefer to finalize their vacation plans with a travel agent or Celebrity Cruises.
First introduced with the luxury cruise brand's mobile website in March 2011, Celebrity's mobile app translates the vacation planning experience into an easily accessible format that resonates with modern consumers.
Vacationers using Celebrity Xplorer have a wide array of interactive features at their fingertips - the "Cruise Finder" function serves to search through and view images of Celebrity's luxurious ships and exciting global destinations, including the brand's first-ever Asia season; the "Virtual Vacation" action reviews the robust selection of onboard activities offered as part of Celebrity Life; the ability to get in touch with readily available Celebrity Certified Vacation Planners via email, phone or online; and peruse packing suggestions based on the length of their vacations.
An innovative cruise brand, as made evident when several industry-firsts were unveiled, including menus, wine lists and even art tours presented on iPads, Celebrity's modern luxury vacations now can start in just one touch.
Guests' handy, convenient Celebrity travel companion is available for iPhone, iPod touch and iPad users online and at no cost by visiting www.celebritycruises.com/mobile.
About Celebrity Cruises:
Celebrity Cruises' iconic "X" is the mark of modern luxury, with its cool, contemporary design and warm spaces; dining experiences where the design of the venues is as important as the cuisine; and the amazing service that only Celebrity can provide, all created to provide an unmatchable experience for vacationers' precious time. In addition to offering vacations visiting all continents, Celebrity also presents immersive cruisetour experiences in Alaska, Australia/New Zealand, Canada, Europe and South America. One of the fastest-growing major cruise lines, Celebrity is one of five cruise brands operated by global cruise vacation company Royal Caribbean Cruises Ltd. (NYSE, OSE: RCL). Celebrity's fleet currently consists of 10 ships, with an additional Solstice Class ship, Celebrity Reflection, scheduled to join the fleet in fall 2012. For more information, dial 1-800-437-3111 or call your travel agent. Follow the brand socially on Facebook.