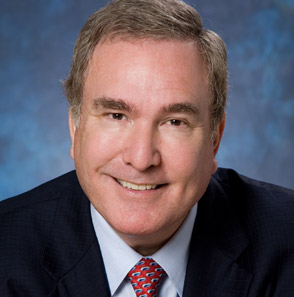 Richard D. Fain
Chairman and Chief Executive Officer
Richard D. Fain is Chairman and Chief Executive Officer of Royal Caribbean Cruises Ltd., the global cruise company operating 40 ships under the Celebrity Cruises, Royal Caribbean International, Pullmantur, Azamara Club Cruises and CDF Croisières de France brands.

Fain joined Royal Caribbean in 1979 as an outside director on the company's Board of Directors. He became the cruise line's Chairman and CEO in 1988. Prior to joining Royal Caribbean, Fain spent 13 years as treasurer, chief financial officer and joint managing director of Gotaas-Larsen Shipping Corp., a London-based owner and operator of cargo ships.

Fain is a member of the National Conference for Community and Justice, and serves on the board of the Posse Foundation, the Florida Council of 100 and the University of Miami's Board of Trustees.

Fain is a former chair of the Miami Business Forum, the Greater Miami Convention and Visitors Bureau, the United Way of Miami-Dade and of the Cruise Lines International Association (CLIA), an industry trade association representing nearly 17,000 affiliated travel agencies and the bulk of the world's cruise lines. He has also served as co-chair of the Campaign of United Way of Miami-Dade and as chair of the POW WOW Host Committee in Miami.

In 2010, Fain was honored with a Lifetime Achievement Award by Travel Weekly, the national newspaper of the travel industry. In 2004, Fain received the Ultimate CEO Award from the South Florida Business Journal and accepted the Ellis Island Medal of Honor from the National Ethnic Coalition Organization. He was inducted into the South Florida Business Hall of Fame in October 2004.

Fain was presented one of France's most distinguished awards, the Chevalier de la Légion d'Honneur (French Legion of Honor), and was named Commander, First Class, of the Order of the Lion by Finland. In addition to being the recipient of the Miami Coalition of Christians and Jews' 2011 Silver Medallion, he received the Anti-Defamation League's 2000 Distinguished Community Service award, was named the 1999 Statesman of the Year by the Wharton School Club of South Florida, as well as the 1998 Humanitarian of the Year by the American Red Cross of Greater Miami and the Keys.

Fain holds a B.S. degree in economics from the University of California at Berkeley and a M.B.A. from the Wharton School of Business at the University of Pennsylvania. Fain and his wife, Colleen, have four children, four gorgeous grandchildren and reside in Miami-Dade County, Florida.