Our Commitment to Guests
It's true, travel companions can enhance your vacation. We believe that providing the best vacation experience possible and making positive changes in the world can go hand-in-hand. So, when you entrust your valuable vacation time to us, you know you've chosen a good travel partner - one that cares about you, our valued guests, and causes that are important to you.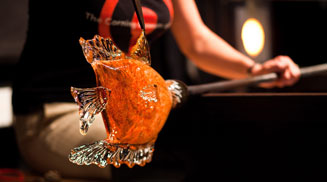 Breast Cancer Awareness & Research
The Breast Cancer Research Foundation® is our charity of choice, which we support with various ongoing and one-time onboard and on land activities, including Celebrity Freedance classes, which cost $15 and include a t-shirt, sales of Celebrity's lifestyle book, Excite the Senses, and auctions for one-of-a-kind Corning Museum of Glass art pieces created onboard ships with the Hot Glass ShowSM. What's more, the godmothers of each our Solstice Class ships are all breast cancer survivors, women who have accomplished great things and who have not let the disease define them.